Saloni Ceramica: the best collections of ceramic tiles from Spanish designers
Saloni Ceramica (Spain) was established in 1971. The brand's products are ceramic tiles, which are widely used in the market of finishing materials in many countries. Under this brand, an assortment of material is presented for facing walls and floors in residential and commercial premises. Each year, the company releases new collections combining European chic and the latest fashion trends in the field of decor.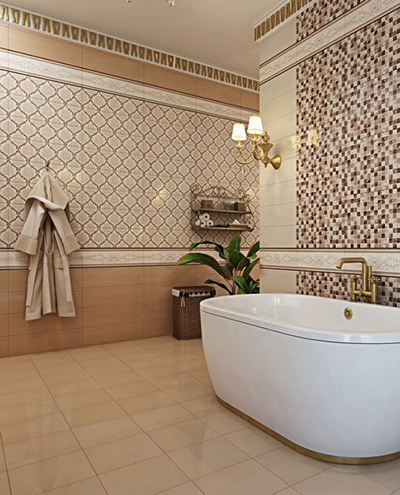 Saloni Tiles: Bathroom Collections Saloni Marmi is a ceramic tile made in soft cream tones. Large format products (30x90) are decorated with exquisite floral ornament or longitudinal embossed stripes. Laconically decorated borders complete the classic European design of the bathroom. Saloni Resort - the collection includes tiles for walls and floors, as well as decorative inserts with the image of Venice.Background products in golden-beige shades perfectly imitate the texture of marble. Saloni Destil is a stylish ceramic tile in black and white. Ideal for a spectacular minimalist design. The glossy surface is represented by two types of relief: mosaic and wavy. Saloni Talisman - a collection of luxurious ceramic tiles made in dark and light colors ("beige" and "cinnamon"). The texture of the products for flooring and walls imitates marble. A rich selection of decorative elements: exquisite mosaic, elegant floral ornament, contrasting pattern with oriental motifs. Saloni Senso - original solution for a spectacular bathroom interior. Wall and floor tiles in chocolate and beige tones repeat the texture of natural wood. The second part of the collection, stylized as a small mosaic, is presented in two versions: one-colored and with an ornament. Saloni Palacio - classic and luxury, the perfect solution for Venetian-style fans. The noble beige color is complemented by an unobtrusive design in the form of elements in gold. Background finish, imitating marble, perfectly combined with ornamentation on decorative tiles and borders (mosaic,four-leafed clover, ornate and embossed pattern in Empire style). Saloni Ceramica floor tiles Saloni Dab Dalma, Dab Adela and Dab Brenda - collections of floor tiles . Products with a matte surface mimic expensive flooring. A high-quality coating is suitable for any living room. Hardwood is a matt ceramic tile that accurately conveys the texture of a tree. Produced in two colors: cream and ashen. Decorative inserts adorn a complex vintage ornament.
Related News
What is soy milk and what is its benefit
What is useful Marian plum
Cell phones
How to choose the front door
Amy Schumer gets rid of the complexes in the comedy Pretty Woman full head